Latest Update:
Petition
Kaxen... on STUFF
A comic about nothing in particular spanning from political opinion to random observations about insignificant things.
400 Comics
It occurs to me I hit 400 comics.
posted by kaxen @ March 15th, 2012, 2:15 am - 1 comments
Smackjeeves Comic Awards
I got nominated for Best Gag-A-Day a second time. I WANNA WIN!

http://sjawards11.smackjeeves.com/comics/1254914/best-gag-a-day/

Vote using the poll under the images.

Check out the other categories too, some pretty spiffy comicry.
posted by kaxen @ July 23rd, 2011, 1:41 am - 0 comments
Smackjeeves Comics Awards
I've apparently been nominated for best Gag-A Day?

http://sjawards10.smackjeeves.com/
posted by kaxen @ July 10th, 2010, 2:13 am - 0 comments
Anime Expo
Updates will resume after Anime Expo

If you're going, I'm at table A55
posted by kaxen @ June 29th, 2010, 3:18 am - 0 comments
Hiatus
I will be on vacation in Asia until January 2, 2010.
posted by luciferownsme @ December 11th, 2009, 11:49 am - 0 comments
Popularity
I just noticed I was on the first page of Most Popular Comics. Awesome.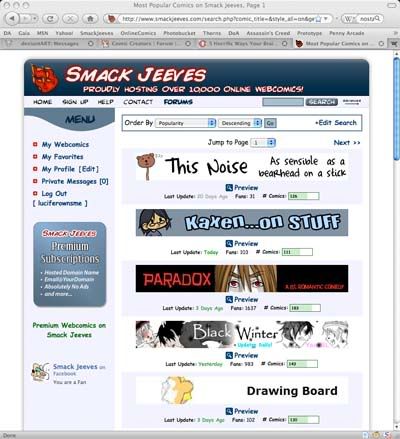 posted by luciferownsme @ November 11th, 2009, 12:49 pm - 0 comments
Update Schedule
Kaxen... on STUFF updates every Monday, Wednesday, and Friday
posted by luciferownsme @ February 15th, 2009, 4:05 pm - 0 comments